KSW 70 Preview; Pudzianowski vs Materla, Legend vs Legend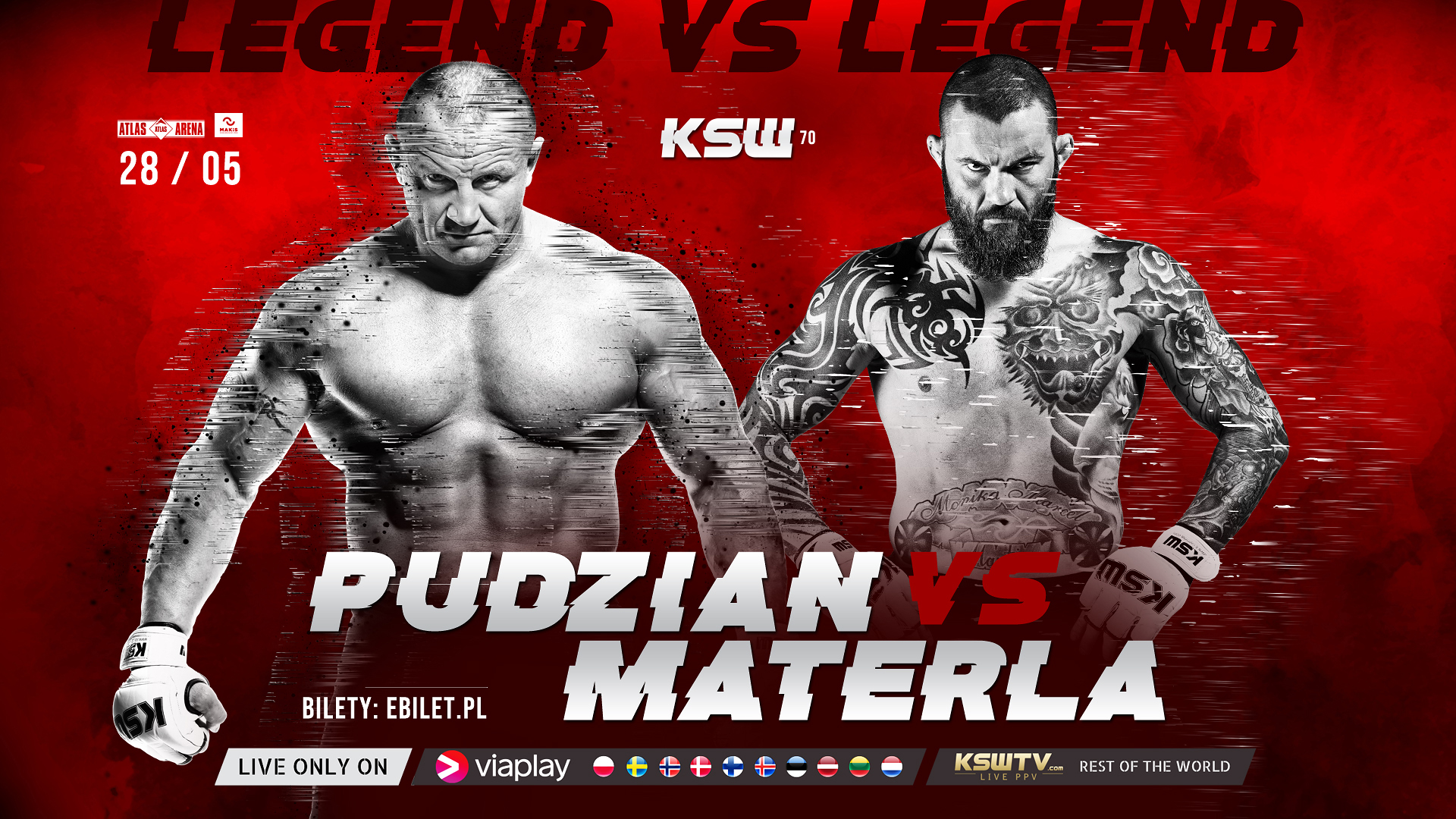 European heavy hitters KSW return for their monthly dose of MMA action this Saturday night. KSW 70 will take place in Łódź, Poland's third largest city. The action goes down in front of a crowd of up to 13,800 at the Atlas Arena just outside the city centre. We will be treated to 9 fights on the night, half of which will be in the Light Heavyweight or Heavyweight divisions, making it one of the heaviest cards in promotional history.
The main event is a legend vs legend affair. Mariusz Pudzianowski (16-7) was born in Biała Rawska in the east of the Łódź Voivodeship, approximately halfway between the cities of Łódź and Warsaw. This makes the event somewhat of a hometown show for Pudzian. He is primarily known from his strongman career, where he won the World's Strongest man on five occasions, the most in strongman history. He also has two runners up medals. Pudzian made his MMA debut at KSW 12 against Marcin Najman. At the time, it was viewed as more of a freak fight than regular MMA competition, Pudzianowski has grown into a legitimate mixed martial artist since then. The 45 year old has gone 16-6 under the KSW banner, making him one of the longest tenured in the promotion. Skillswise he is a BJJ purple belt and he has a nice double leg takedown. If he hits you clean with his massive fists, you stay hit. There is no stronger athlete in MMA. If he takes you down and lands on top of you, you're not getting up. He's on a four fight win streak and is the #3 ranked HW in KSW. He is going to have a serious weight and strength advantage in this one.
Standing opposite will be Michał Materla (31-8). "Cipao" was born in Szczecin in Western Poland, two hours from Berlin, Germany. He is a member of the infamous Berserker's Team in the West Pomeranian city. His promotional record is 21-5 and he is a former KSW Middleweight Champion and the KSW 6 tournament winner. He is one of the best fighters to have never fought in the UFC, turning down multiple offers through the years, most notably before his KSW Dublin fighter where he picked up KO of the Night against Paulo Thiago. Materla is an all action fighting machine. A wrecking ball on the feet with some beautiful guillotines and submissions thrown in to keep you honest. He has a BJJ black belt and is truly as well rounded as they come. The catch in this one is that the most he's weighed in for a fight is nearly 200lbs. Height wise he'll only give up an inch, but could give up as much as 60lbs on the scales and will have a severe strength deficit. He'll need to use all his MMA skills and experience in this one, gameplan will be key. There are weight classes for a reason and even half connecting shots may be an issue from a power perspective. He does have sparring experience with big bodies such as Tomasz Narkun and Karol Bedorf. Fights like this don't come along often so put the feet up and enjoy it.
KSW 70 sees the return of an old friend, Daniel Omielańczuk (25-2-1). He is a UFC veteran, going 4-5 on the big show. He had a couple of losses early in his career at KSW 12. Omielańczuk was an ACA title challenger and recently asked for his release from the promotion due to the ongoing conflict in Ukraine. He trains out of WCA in the Polish capital and can mix it up in each phase. His hands have the power to change a fight instantly and he is big and strong in the grappling department. He'll take on Ricardo Prasel (12-3), a man who recently beat Shocker Team management stablemate Michał Kita at KSW 68. The Brazilian proved his toughness that night, getting absolutely bludgeoned in the first round before mounting a comeback in the second. He's a very tall man at 6ft7in, and his long limbs cause opponents issues in the grappling exchanges. His triangles are particularly tricky. He's got good ground and pound as well. Leather will be thrown in this one.
In the light heavyweight division Ivan Erslan (11-1) returns to action after having his last planned fight fall out at KSW 67. The Croatian is a demolition man. He's here for a good time, not a long time. The gameplan is simple, he's walking across that cage to take your block off, and he's proven to be quite adept at it with 6 first round KO finishes. His only defeat was in a title match against Tomasz Narkun where he got caught in a rear naked choke. Rafał Kijańczuk (11-4) looked superb on his KSW debut against Yann Kouadja at KSW 68, including his memorable entrance to Cher's "If I Could Turn Back Time". He's another WCA Warsaw fighter and his strength is also in knocking people out. He has 9 first round knockouts. All signs point to these lads setting off fireworks and giving the judges a fight off.
There are 2 rematches on the card. Izu Ugonoh (1-1) has had an unorthodox start to his MMA career to date. He won his first fight via injury TKO. He faced Marek Samociuk (3-2) in his sophomore outing. Izu dominated the first round, and then it all went wrong. He never left the corner at the start of the second round and Samociuk walked straight over and finished him. At the very best Izu gassed out, at worst he gave up. Izu Ugonoh is one of Jan Błachowicz's main training partners at WCA Warsaw and was a huge key to his success against Israel Adesanya. As a boxer, he went 18-2 as a pro. His most notable bout was a defeat to title challenger Dominic Breazeale. He has also won a K-1 World Championship gold medal in Austria in 2009. Marek Samociuk was the inaugural Wotore tournament champion, a bare knuckle vale tudo style promotion. His strength is in his grappling and his ground and pound. He will need to land a takedown early to avoid a repeat of this first contest and it would be prudent to give Izu a gut check. Izu needs to just do what he does best along with being efficient with his cardio.
The rising star of Polish light heavyweight MMA is Damian Piwowarczyk (5-0). He's already banked two beautiful second round submissions in his first two KSW fights, putting him near the front of the charge of new KSW stars. Along with his slick BJJ game, he packs a powerful punch. He's quite tall at 6ft6in which makes him a nightmare in the triangle game. He puts his long limbs to good use. He's training at one of the best gyms in the country in Czerwony Smok in Poznań. He has all the tools to become a superstar in MMA. He'll face his toughest opponent yet in Bartosz Leśko (11-2-2). The Gdynia man is another of the Shocker Team guys who terminated their deals with ACA. He's a well rounded fighter that can hang on the feet and is also an absolute savage in the submission game. He's a master of the back take and he's put more people to sleep than a nurse in a maternity ward. Experience could play a big part here.
At middleweight we have a battle of world class kick-boxers. Jason Wilnis (2-0) is one of few men to have a victory over Israel Adesanya in kickboxing. He's from Utrecht in the Netherlands and is a former Glory and Showtime 85MAX middleweight champion. He switched to MMA under the Levels Fight League promotion in Holland, and proved he's not just a one trick pony and going 2-0. Radosław Paczuski (3-0) is a respectable kickboxer in his own right, just without the trophy cabinet. He's won 2 of his 3 MMA fights by knockout. Hopefully we can keep this on the feet and have a striking masterclass.
Anita Bekus (5-2) had an impressive win in her last outing against Magdaléna Šormová at KSW 65 in Gliwice. She was born in Bydgoszcz, a couple hours north of Łódź, but has been training in the city for her entire pro career, firstly at Shark Top Team and in recent years at Octopus Łódź. She has also won fitness competitions, giving her a real strength advantage over her opponents. She'll face Italy's Roberta Zocco (3-3), a lady who lost her last fight against Bekus' good friend Karolina Wójcik (a KSW veteran who will compete on the upcoming Dana White Contender Series season). It has been three years since Zocco's last outing so ring rust may be an issue. She's a decent grappler who'll have her work cut out for her against the hometown favourite.
The second rematch on the card is of Irish interest. Albert Odzimkowski (11-6) will go again with Tommy Quinn (9-5). The first matchup between the two ended provisionally in a TKO win for Odzimkowski, a sequence that started with a big knee, but was overturned as Quinn was a downed opponent and thus making the knee illegal. Odzimkowski is an all action fan favourite. When he's not fighting, he's a commentator and analyst for KSW. He's also a presenter for Kanal Sport's MMA content. He's another WCA Warsaw fighter and is also part of the Shocker Team management stable. He's an explosive striker with a judo background. He also has some lovely submissions. He's aggressive and will try to finish the fight in all phases of the game. Quinn was born in Ballymena, fought out of Derry and then found a home in Newcastle, England. The first matchup was his first fight in three years so will hopefully have shaken off the rust. He's also an exciting fighter who packs a mean punch. We haven't seen too much of his skill set recently so it would be nice to see it here. Second chances don't come often in MMA and when you get one, you need to grab it.
Another Irish interest is in the opening bout of the evening. Francisco Barrio (9-2) is a former SBG HQ fighter. The Argentine trained with the likes of Peter Queally, Kiefer Crosbie et al during the peak 3Arena BAMMA years. He's medaled at multiple Pan-Am wrestling events, winning two silvers and two bronzes in Greco-Roman wrestling. He moved to Croatia as a child and currently trains out of ATT Zagreb. His game plan is likely to utilise cage clinching in this one as he goes up against classy kickboxer Łukasz Rajewski (11-7). He trains out of Ankos MMA in Poznań, a formidable gym in Poland. He's an expert in Sanda and distance control. If you allow him to, he can lead you on a merry dance around the cage. He can pick you off for fun if you don't close the distance. This could be your classic striker vs grappler contest.
KSW 70 is live from 6pm Irish time on Saturday and access can be purchased at KSWTV.com or on the ViaPlay subscription service in select countries.