The Severe Spotlight: Roman Dolidze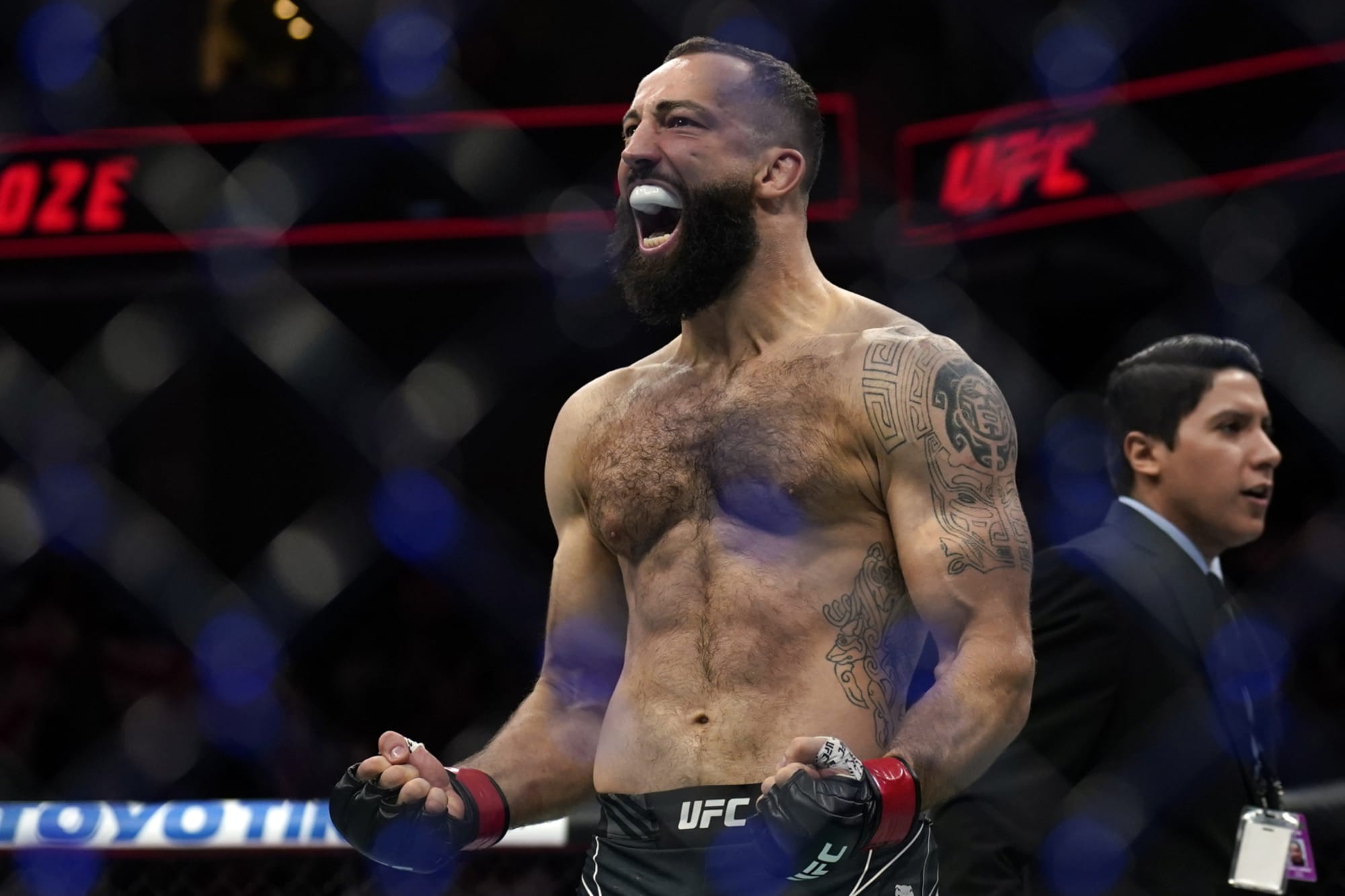 Roman Dolidze made it three wins in his last three fights on Saturday at UFC Vegas 62. The card in its totality was odd, it felt hollow and lacking. But much of the chatter pre-fight night was centred around a few fights only. Of course, the lions share went to Arnold Allen and Calvin Kattar sharing the main event slot, but Dolidze is a fighter that fans care about.
Dolidze eagerly bounces into the centre of the cage to kick off the first round. Staunch in his southpaw stance, looking to pressure and find the right hand. He does a great job to jam Hawes – which is smart given that Hawes is an explosive athlete, so being able to pressure that type of fighter, make them feel the need to explode and then meeting them mid explosion before the synapses have had time to fully fire. The benefit of this is that predominantly, with an explosive athlete they must commit to their actions and find it difficult to alter their course of actions mid-action.
The other kryptonite to a fighter leaning on their athleticism and explosivity is variety. The variety means that the opposition fighter is spending costly energy reacting in a large way to feints and when the eventual strike comes, they will overcompensate with the core fibres of their fighting style – explosivity. Dolidze goes to the body, shows a left hand to then come over the top with a high kick, offers some switch hitting and looks to catch kicks and create grappling exchanges.
The mistake he makes, is the elixir in Hawes's arsenal and that is range. Range dictates the ability for Hawes to cover distance, and he can cover distance at a far more rapid rate than Dolidze and does so when he ducks under a left hand and finds his way toward a far tight waist grip looking to secure a back bodylock. Dolidze reacts well by granbying to guard. This is smart as he now is able to compete in a realm, he is more comfortable with, and is choosing of his own accord what guard he plays. Should he have chosen to stay on his feet and try to fight the tight waist or the successive bodylock grips, it is likely he finds himself on the mat in a position he does not choose. Choice in MMA is a fantastic weapon.
This proves dividends when Dolidze gets to close guard and begins crushing elbows into the crown of Hawes' skull. He creates a dilemma of framing with his left hand, being in the inside space and crushing the elbows. Those elbows then create a frame that's disruptive to the head position of Hawes. This causes an overreaching action from Hawes as he attempts to establish wrist control on the right arm of Dolidze, this is the reaction Dolidze wants, as he throws up and looks to catch an armbar. Hawes reacts correctly, building height and withdraws his elbow line from the submission.
This on its own falls deeper into the layers of the dilemma. Standing, and withdrawing from the submission gives access to the legs of Hawes, which Dolidze dutifully attacks. In submission grappling there is a marriage between upper body submission attacks and lower body submission attacks – and this is inherent. Dolidze looks to use a K-Guard entry into a backside 50-50 position, this would allow him to access a devastating inside heel hook. Hawes does a good job of stopping the K-Guard inside hip post by framing on the thigh. Dolidze rolls through to a double-outside ashi position looking to attack kneebars, outside heel hooks or toeholds. The correct defensive reaction here for Hawes is to build height, splitting his base and looking to strip the leg entanglements. Instead he opts for a split combat base and looks to fit the "Dracula" grip on the leg (effectively a 2-on-1 grip).
Dolidze uses that grip to both rotate himself over the top of the knee but also to create a significant inwardly rotating bend in the knee. There is momentary heel exposure for Dolidze, and he goes searching for it. Hawes is not reacting in a good way, and should be rolling through to take pressure of his knee, feet connected and bridging into the knee, Dolidze just gets a regular grip of the foot and begins to torque. There is clearly a pop, and Hawes exclaims. Dolidze releases the grip of the leg, and turns into Hawes, arms outstretched seemingly both pointing out the injury but also looking to console Hawes.
Here referee Dan Miragliotta does not handle the situation well. He intervenes in the contest, as Hawes is rising to his feet, watching Hawes lean against the cage with a bowed knee, as he begins to advance dragging his right leg across the floor like a zombie. Dan Miragliotta then allows the fight to continue. It is not good practice to intervene in the fight without calling an official stop to the contest, if he thinks Hawes is compromised, a doctor should be brought in to the cage to assess his ability to continue the contest. This did not happen, and it looks messy.
Dolidze, having felt the knee buckle under his weight only moments earlier, takes his chance to swarm – like a lion to a wounded, bleeding gazelle. Hawes to his credit looks to fire back and to stay in the fight, but the task is too much. Dolidze has a far superior ability to move, to line up shots and to land. A glancing right hand forces Hawes to momentarily take a knee, as he rises, Dolidze crashes forward landing another right hand in the clinch, as he exits the clinch, a right-hand lands that sends Hawes crashing to the shadow realm of the canvas. A left turns his jaw skyward, making sure he lands on his back as a third right hand ensures, like a Mongol spike, that Hawes' head is driven thoroughly into the canvas.